No, not quite – Runner Up Award [only]
This is what I achieved. Should I be disappointed that I didn't come first?
In fact, I am – very disappointed. Second isn't that bad but it feels like it today.
There's many a time you enter a race, a competition, an award and you know you won't win. You do it for the race (this is definitely me when I'm running!), you do it for the support of others (Facebook competitions, craft stall raffles, etc) or you do it for the experience; perhaps to raise your profile or for that extra PR. But sometimes you do it for the win!
So, I ask myself what do I do now, how will others view my award, what have I learnt, will I enter again? I ask so many questions and the answers are all a little blurred – maybe it's too early.
Entering is a must for any business – awards are there to be entered and won. Celebration of achievement must take place. For any business to move forward and make progress we must recognise where we've been, and this can be achieved in many ways – setting goals, tracking achievements, measuring success and achieving milestones.
I'm feeling a bit like the 'always a bridesmaid and never a bride'. I was awarded a lovely 'star' shaped troyphy and a bottle of champagne; which I've been reliably informed is a very good one! Now to find someone to share it with – hubby's not a fan and I certainly can't drink it all.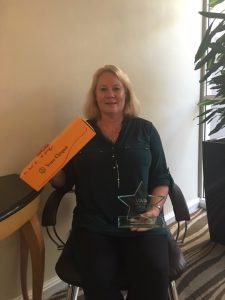 I know I'll pick myself up and carry on – review regularly – vow to move forward and not let it bring me down – may take more cake than I should! But I like cake!
Success isn't measured by awards and accolades – so some people say, and I'm inclined to believe this – especially when you think about the list of people that have achieved much later on in their life and career or those on the honors list every year that are little known. Some people never mention them, others refer to them at every opportunity – which one are you (or would you be if you'd received praise and glory in the form of awards and accolades?)
Here's to moving onwards and upwards – those successes along the journey and those set backs that bring you down to earth with a bump but don't knock you out of the ring altogether. Here's to other opportunities – or temptations!
What's your thoughts? Tell me about your awards.
Thanks
Michelle x